Why fit a quality Monotube like Bilstein B6 shocks to your vehicle
We had been planning a trip around Australia for quite a few years before I was able to do it.  I was riding past a Toyota Dealership who had a 1995 Troopy sitting in the yard that they had just traded.  It had all the fruit, but the suspension did look a little tired.
It sat there for a few days and on my way home one day I stopped in to ask about it.  It had not been cleaned up yet ready for resale (had just been traded in) and I got taking with the salesman, I made him an offer and ended up getting it.
4×4 Suspension needed an overhaul
After a few weekend trips it was very obvious I needed to overhaul the suspension.   I got a quote from the 3 main shops, plus a Bilstein shock and leaf reset option. I went with this option as it was mid-price range. 
Transformation In our ride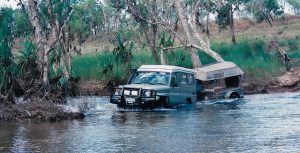 The transformation in ride for an entirely leaf sprung model was unbelievable. It was so much improved in comfort on the road, as well as more stable off the road, especially on corrugations.  
Another 3 months went past, and I was ready for the trip I had been planning for 5 years.  My lap started in SE Qld and took 3 years to go around – QLD took 9 months to do and the real highlight for me was Cape York.  In the process of travelling through Qld we met 6 other couples who we seemed to cross paths with all the time as we went. There was another Troopy, a single cab Landcruiser, a couple of Patrol Wagons a Hilux and Navara.  We ended up going to the tip as a group.  
We left from Cairns as a Convoy and took a few days to get to Weipa. This was my first time on terrain like this and it tested everyone's set up (I was towing an off-road trailer but that's a separate story).  There was not a single vehicle that was without issues, some worse – a lot worse than others.
Bilstein suspension you can depend on
Needless to say the 4×4 parts business in Weipa does a roaring trade.  After the 820 odd kms of mostly atrocious "road" to Weipa, I was the only vehicle in the convoy who did not have a failed shock.  In the worst-case scenario, one of the boys had to replace all 4 of his shocks. Everyone had fitted new suspension in the lead up to this trip and some of the couples had spent serious dollars on setups that had not met their expectations. 
The real issues in this situation are experiencing failures while remote – not whether it is under warranty or not.  I continued to serve up plenty of punishment for the rest of my trip and can't fault the Bilsteins. As far as value for money and improvement of ride, they are right at the top of my list when looking to improve your ride.
—-
Dan Stott
Want to know how to improve your 4wd suspension and handing. Talk to us today!